Last updated on November 14, 2010 by Liza Hawkins
I will be feverishly working on my
POM Wonderful Dinner Party
blog post today, in hopes of pushing it out tomorrow, but I wanted to provide a quick recap today since we had so much fun last night!
Last week, over 40 pomegranates showed up at my front door, courtesy of POM Wonderful. Along with those pomegranates came a prize pack, complete with goodies to give away to my guests, and an hysterical apron for me (more on that to come).
Six of us feasted for two hours on everything from roasted chicken to cheesecake, and enjoyed a really
strong even though we watered down the ratios
delicious Pomegranate Cosmo (thanks to
YOUR votes in my November Food Challenge Poll
)!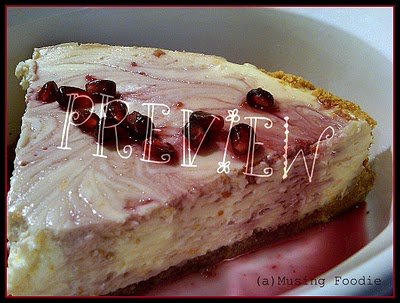 Pomegranate Swirl Orange Scented Cheesecake
with Pomegranate Orange Reduction
Be on the lookout for the full recap soon, and keep your fingers crossed for me!